Meet
Sarah
Rossney
Sarah creates stunning art pieces that celebrate lively snapshots of everyday life.
She is a Dublin based artist and her paintings consist mainly of cityscapes and urban street scenes.
Her paintings are steeped in culture and depict snapshots in time in Ireland's ever-changing capital city.
She can transform sometimes mundane urban scenes into bright and fascinating studies of city life full of colour, contrast and motion.
The overall effect of Sarah's work is the fusion of the real and the fantastic into inspiring and optimistic visions of modern life; the sky is brilliant blue; the sun is always shining, and the people wear day-glow.
Some exhibitions include: Abbeyfield Group, New York, Art Takes Times Square New York, The Doorway Gallery, Dublin Horse Show Art Fair, Bad Art Gallery, The Green Gallery, Gallery 23, The Smithfield Gallery, Grogan's The Killinard Hotel and The Huguenot Gallery.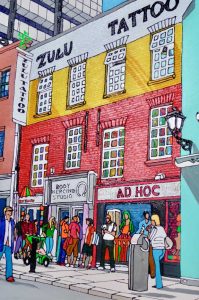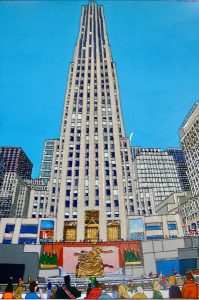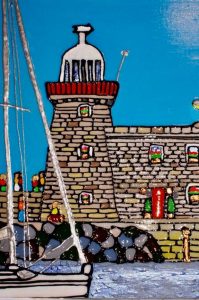 The
Process
Sarah holds a degree in Archaeology and Italian. Her artistic career started with mosaics and stained glass as a hobby while in college. Then when experimenting with acrylic on canvas she developed a technique of raised bold outlining. She combines this bold outlining with vivid colour to produce cityscapes and street scenes that are full of colour, contrast and motion. These are optimistic visions of everyday life where the sun is always shining and the sky is always blue.
The blue sky has become her trademark colour and she uses the shamrock streetlamp as her logo. The shamrock streetlamp is synonymous with all things Dublin and featured quite a lot in her earlier paintings.

All images subject Copyright © Sarah Rossney